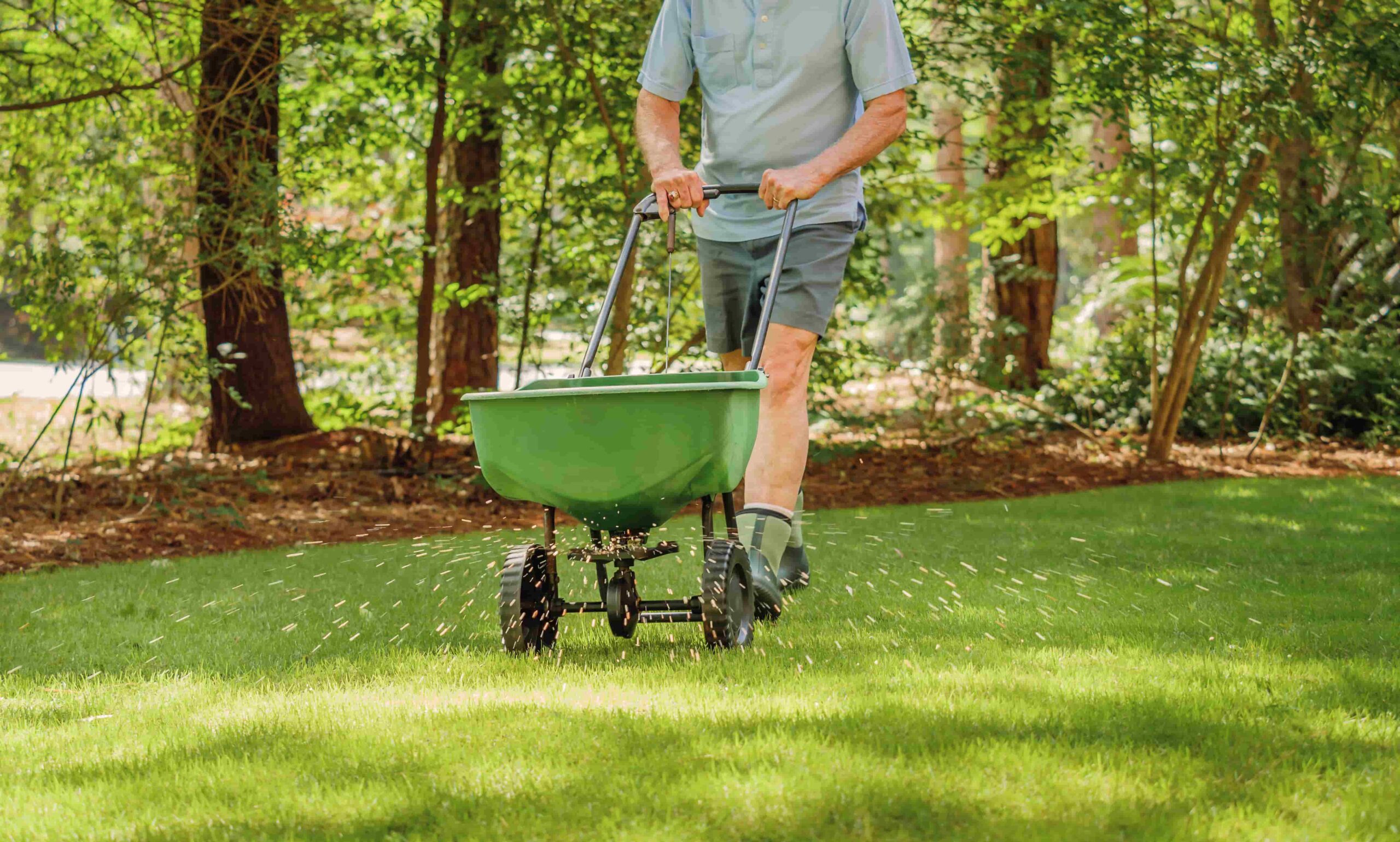 Did your lawn take a beating this past winter?
Whether you need to overseed to freshen up your entire yard or spot treat thin and bare areas, OTT will walk you through what you need to ensure quick, uniform seedling establishment for a lush, dense, lawn all season long.
Prepare your yard.
Conduct a soil test to see if any nutrients are deficient, what your pH is, and determine if soils have any toxins or are too compacted. For seed to germinate uniformly, it needs oxygen-rich, fortified soil, and appropriate amounts of water. Compacted (hard) soils impact the availability of air, water, and fertilizer. Applications of peat moss or gypsum can also help if the soil is hard and compacted. Mow your lawn at about 1-1½ inches and remove the clippings so new seeds contact soil, get enough sunlight and water. Rake the soil with a metal rake to remove thatch and debris. This loosens and exposes soil for better seed to soil contact. One week before you seed apply our OrganicPrecise™ 7-5-7, 100% organic fertilizer with added water management and stress-fighting compounds. If soil tests show pH, salt, or other nutrient deficiencies, other soil amendments may be necessary.
One-size-fits-all seed will not work.
Seed selection is very important. Choose a high-quality seed that is appropriate for your yard. Is your yard in full sun most of the day, or have a lot of trees and heavy shade, or high traffic areas? You want to make sure the seed suits your lawn's growing environment and should be Certified to prevent cross-contamination with weeds. Some seeds have been bred to thrive even with less water and chemical use. Ask about our blue label seeds.
OTT Athletic mix is a combination of Perennial Ryegrass, Tall Fescue, and Kentucky Bluegrass making it a great choice for your spring seed choice because of its ability to germinate quickly, spread laterally for uniform density, its great color, and it can take a beating from pets and children at play. The ryegrass and tall fescue varieties used in this seed mixture are on the A-List.  To become an A-LIST Approved Variety, a variety must have demonstrated superior performance in A-LIST trials and meet rigorous requirements in water conservation, reduced fertility and traffic, heat, and drought stress tolerances, all with no fungicide or insecticide applications.
If you have a shady lawn, ask us about our A-List Shady Mix. No irrigation? Consider drought-tolerant varieties.
Critical to uniform seed germination and seedling establishment.
1. Make sure your spreader is calibrated, set at the right setting, and seed applied at label recommendations, not on a windy day.
2. One week after seeding apply a starter fertilizer. 8-14-4 EC Plus +BioFusion makes sure seedlings are fed and protected. Other added ingredients make sure soils are fortified and amended to provide a great growing environment.
3. Water is critical for seed germination and lawn establishment. Light watering twice a day, once in the morning and then again late afternoon will keep seed and soil moist. Do this until the seed germinates. You do not want too much water as seed can easily wash away. Plus too much water can encourage disease. Once the seed germinates, you can water more heavily, usually every other day if there are no rain events. Rain replaces watering. Once you have a good stand of grass, then water as needed to prevent wilting. By supplying adequate amounts of water and not watering too much, you encourage deep, healthy roots and a denser lawn that can more easily survive the summer heat and humidity.
4. Hold off mowing until seedlings are about 4 inches tall. Make sure your mower blades are sharp, so you don't wound the young grass and invite pests and disease to attack.
5. DO NOT APPLY crabgrass preventing herbicide. If needed, you can apply Dimension, a post-emergent crabgrass herbicide after at least 2 mowings.
You've got this but know if you have questions, your Organic Turf Trade rep is here to answer any questions. Email us at yardcare@organicturftrade.com or call us at 856.319.2940.