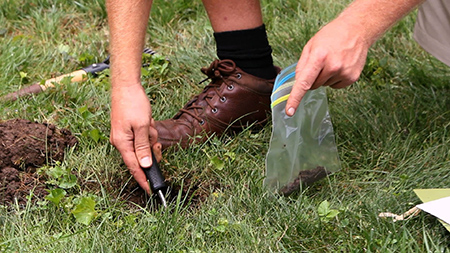 Whether you are caring for your own yard or employ a landscaper, having the following information lets you make sure products your lawn, trees, shrubs, and flower gardens need are being used. You save money and the environment.
Soil Test
A soil test gives you a lot of information and measures much of what is beneficial or can hurt your lawn, trees, shrubs, and flower beds. You get information that can help you determine what kind of fertilizer or plant health products you need. It also identifies toxins, like certain salts, that can injure roots and ultimately plant health. Soil compaction and hardness is also measured so you know if roots are being strangled, nutrients are being tied up or water is being blocked or diverted from roots.
We offer two options for testing your soil:
• $35, includes free results interpretation and recommendations from OTT Agronomic Expert
• OR get a Soil test, interpretation, and recommendations for FREE by purchasing a Yard Measurement Service
Organic Turf Trade offers soil testing through a reputable lab and includes interpretation and recommendations from a soil and water chemistry expert who has provided these services for 30 years to golf superintendents, landscapers, and homeowners, like you.
Below are instructions for taking soil samples from your lawn. Once you obtain the samples, you can bring them to our store.
Use a clean, rust-free trowel or small garden shovel (spade) to take samples from up to 10 areas of your lawn.
Dig several small holes in the lawn about 6 inches deep and 1 inch wide. Remove all grass or stones from each sample. We just need soil. Hold samples in a container or bucket. They will be all mixed together anyway when you send to the lab.
Mix all soil samples together. Fill a soil sample bag to the fill line on the bag or put 2 cups of soil in a plastic Ziplock bag.
Mark bag(s) with a permanent marker with the information that matches what's on your submission sheet.
Close each bag tightly and pack into a cardboard box, make sure any extra room in the box is filled with packing material so no movement is allowed.
Choose Standard Soil Test. Place the submission worksheet into the box. If soil bags are wet, place the worksheet in a plastic bag. No payment is needed at this time.
Visit our store, Organic Turf Trade, 517 Franklinville Rd, Mullica Hill, NJ 08062 and we will send your soil samples to the lab for you.